IPL Schedule 2021
BCCI has released Indian Premier League 2021 New Schedule. According to this new schedule, the second half of the IPL 2021 started on 19th September 2021. It is begun in Dubai on 19th September with Mumbai Indians vs Chennai Super Kings. The final match will be held on 10th October. Due to the corona pandemic, Indian Premier games were interrupted. Those games are continued in September and end in October.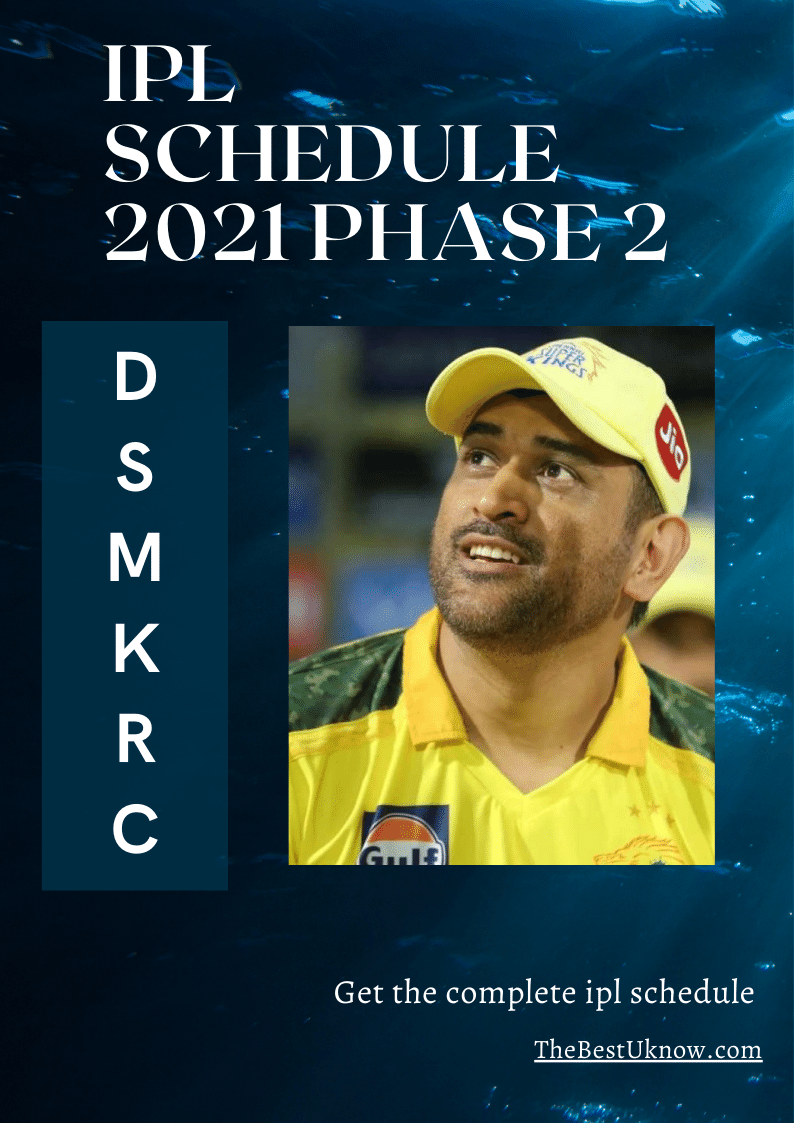 Venues for Indian Premier League 2021 are-
Dubai International Stadium, Dubai
Zayed Cricket Stadium, Abu Dhabi
Sharjah Cricket Stadium, Sharjah
Also read-
Here is information about the matches of IPL.
The current year's IPL started on 9th April. It made the audience enthusiastic. At the beginning of the current year's Indian Premier League 2021, Royal Challengers Bangalore and Mumbai Indians shook the whole Chennai with a bang. IPL 2021 matches were ended due to the Corona pandemic.
Now, after the interruption in the games, the dates of organizing the remaining 31 matches has been released. The BCCI has rescheduled the IPL to finish the remaining matches from 19th September. These matches are started from Dubai.
The Covid tests of the players of each team have been done before these matches are finalized.
You can see the complete information of IPL New Schedule Date in the table given below.
Here is an IPL Schedule 2021 Phase 2
Have a look-
Date
Match No
Match
Time
Venue
22nd September,
Wednesday
33
Delhi Capitals vs Sunrisers Hyderabad
7:30PM
Dubai International Stadium, Dubai
23rd September, Thursday
34
Mumbai Indians vs Kolkata Knight Riders
7:30PM
Zayed Cricket Stadium, Abu Dhabi
24th September, Friday
35
Royal Challengers Bangalore vs Chennai Super Kings
7:30PM
Sharjah Cricket Stadium, Sharjah
25th September, Saturday
36
Delhi Capitals vs Rajasthan Royals
3:30PM
Zayed Cricket Stadium, Abu Dhabi
25th September, Saturday
37
Sunrisers Hyderabad vs Punjab Kings
7:30PM
Sharjah Cricket Stadium, Sharjah
26th September, Sunday
38
Chennai Super Kings vs Kolkata Knight Riders
3:30PM
Zayed Cricket Stadium, Abu Dhabi
26th September, Sunday
39
Royal Challengers Bangalore vs Mumbai Indians
7:30PM
Dubai International Stadium, Dubai
27th September, Monday
40
Sunrisers Hyderabad vs Rajasthan Royals
7:30PM
Dubai International Stadium, Dubai
28th September, Tuesday
41
Kolkata Knight Riders vs Delhi Capitals
3:30PM
Sharjah Cricket Stadium, Sharjah
28th September, Tuesday
42
Mumbai Indians vs Punjab Kings
7:30PM
Zayed Cricket Stadium, Abu Dhabi
29th September, Wednesday
43
Rajasthan Royals vs Royal Challengers Bangalore
7:30PM
Dubai International Stadium, Dubai
30th September, Thursday
44
Sunrisers Hyderabad vs Chennai Super Kings
7:30PM
Sharjah Cricket Stadium, Sharjah
1st October, Friday
45
Kolkata Knight Riders vs Punjab Kings
7:30PM
Dubai International Stadium, Dubai
2nd October, Saturday
46
Mumbai Indians vs Delhi Capitals
3:30PM
Sharjah Cricket Stadium, Sharjah
2nd October, Saturday
47
Rajasthan Royals vs Chennai Super Kings
7:30PM
Zayed Cricket Stadium, Abu Dhabi
3rd October, Sunday
48
Royal Challengers Bangalore vs Punjab Kings
3:30PM
Sharjah Cricket Stadium, Sharjah
3rd October, Sunday
49
Kolkata Knight Riders vs Sunrisers Hyderabad
7:30PM
Dubai International Stadium, Dubai
4th October, Monday
50
Delhi Capitals vs Chennai Super Kings
7:30PM
Dubai International Stadium, Dubai
5th October, Tuesday
51
Rajasthan Royals vs Mumbai Indians
7:30PM
Sharjah Cricket Stadium, Sharjah
6th October, Wednesday
52
Royal Challengers Bangalore vs Sunrisers Hyderabad
7:30PM
Zayed Cricket Stadium, Abu Dhabi
7th October, Thursday
53
Chennai Super Kings vs Punjab Kings
3:30PM
Dubai International Stadium, Dubai
7th October, Thursday
54
Kolkata Knight Riders vs Rajasthan Royals
7:30PM
Sharjah Cricket Stadium, Sharjah
8th October, Friday
55
Sunrisers Hyderabad vs Mumbai Indians
3:30PM
Zayed Cricket Stadium, Abu Dhabi
8th October, Friday
56
Royal Challengers Bangalore vs Delhi Capitals
7:30PM
Dubai International Stadium, Dubai
10th October, Sunday
Qualifier 1
7:30PM
Dubai International Stadium, Dubai
11th October, Monday
Eliminator
7:30PM
Sharjah Cricket Stadium, Sharjah
13th October, Wednesday
Qualifier 2
7:30PM
Sharjah Cricket Stadium, Sharjah
15th October, Friday
Final
7:30PM
Dubai International Stadium, Dubai