First, we shall discuss the term 'social bookmarking site'.
What is a Social Bookmarking Site?
A social bookmarking site is where we can store, search and manage our bookmarked web pages. On this site, people bookmark sites useful to them. We can keep such essential and valuable websites here. Usually, these bookmarks are open to the public. Anyone who is a member of that site can view these bookmarked pages.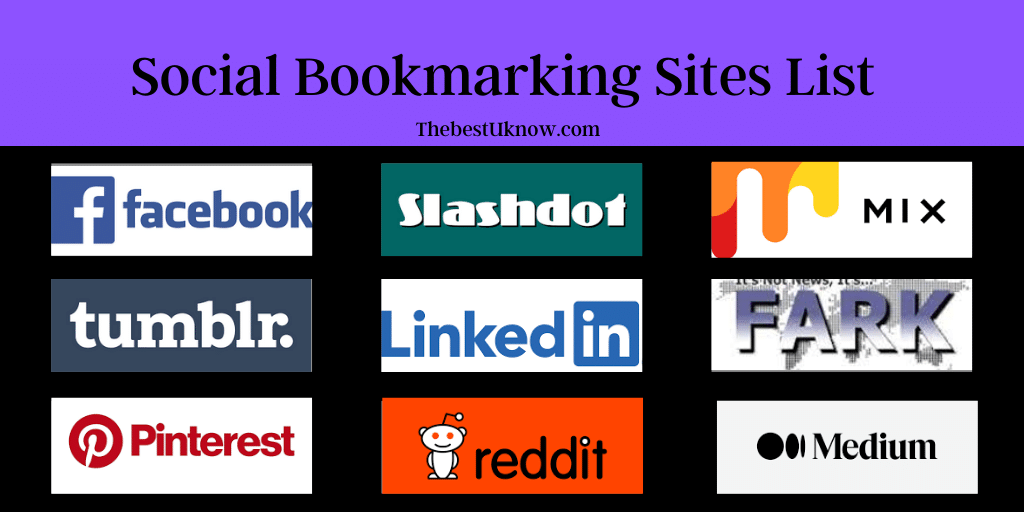 In most social bookmarking sites, users can organize their bookmarks by applying particular keywords or tags. On these sites, users also are allowed to comment on others' bookmarks and vote or rate to that bookmark. In some cases, users can also bookmark under other members' bookmarking tags.
What Are the Benefits of Social Bookmarking?
Most website owners use social bookmarking sites to promote their sites.
These sites help to grow the site. But, how? See-
When a user lists his site to these sites, it can drive quality traffic. And thus, users can get a lot of new traffic to the site. And this traffic is due to the appearance of a website in the search for topics people interest in.
Bookmarking is the fastest way to index websites in search engines.
Search engines often list results from bookmarking sites. So listing in such sites gives an extra opportunity to show up the website in search engines' search results.
Being listed in one bookmarking site can lead to people tag your site on other bookmarking sites.
Users can also increase traffic by adding social bookmarking buttons to our website.
Adding social bookmark links to your site makes it easy for readers to save and share.
So there is a great benefit to bookmark our site to various social bookmarking sites. The traffic we get from such sites is 'targeted. So social bookmarking is a great way to promote our blog or website and get targeted traffic.
Related links-
Use Good Social Bookmarking Sites to Grow the Site
There are so many social bookmarking sites, but you should select the sites from those. Select the top sites to bookmark your site to get more benefits. We should use top bookmarking sites because-
Top bookmarking sites have a high page rank, so you can get quality backlinks that are very useful in the eye of search engines.
If you wish your blog post to go viral, submit it on high PR sites.
Submission to these sites improves the domain authority of your blog.
Due to relevant traffic, it can reduce the bounce rate of your web page.
As users can bookmark with tags, it can help to categorize the blog.
How Can We Do Social Bookmarking?
There are so many strategies to follow while bookmarking a webpage. Some of them are as:
Follow the social bookmarking website's guidelines.
Choose the appropriate category according to the topic of a web page.
Describe your web page correctly.
Add limited and proper tags.
Don't bookmark the same URL many times.
Steps to Bookmark a Web Page
To bookmark a page, first, you should collect web page data.
For example: title of your web page, keywords to promote, tags according to your web page topic, description, images if available, social site links etc
Here are some steps to follow while bookmarking the web page.
Have a look-
Login if you are already registered, or register on the website.
Click on Submit a link.
Copy the URL from your website that you want to promote.
Paste the link.
Add the description.
Click Submit.
List of Social Bookmarking Sites 2021
Here is a list of high PR social bookmarking sites in 2021.
| Sr. No. | Social Bookmarking Site | Domain Authority |
| --- | --- | --- |
| 1 | Delicious.com | 96 |
| 2 | Medium.com | 95 |
| 3 | Myspace.com | 95 |
| 4 | Facebook.com | 95 |
| 5 | Archive.org | 94 |
| 6 | Pinterest.com | 94 |
| 7 | Slashdot.com | 94 |
| 8 | Digg.com | 93 |
| 9 | Instructables.com | 93 |
| 10 | Skyrock.com | 92 |
| 11 | Livejournal.com | 92 |
| 12 | Behance.net | 92 |
| 13 | Dribbble.com | 92 |
| 14 | Scoop.it | 92 |
| 15 | Discordapp.com | 92 |
| 16 | Flickr.com | 92 |
| 17 | Trello.com | 91 |
| 18 | Buffer.com | 91 |
| 19 | Evernote.com | 91 |
| 20 | Getpocket.com | 91 |
| 21 | Reddit.com | 90 |
| 22 | Stumbleupon.com | 90 |
| 23 | Justpaste.it | 89 |
| 24 | Diggo.com | 89 |
| 25 | Newsvine.com | 89 |
| 26 | Minds.com | 88 |
| 27 | Plurk.com | 88 |
| 28 | Slack.com | 87 |
| 29 | Producthunt.com | 86 |
| 30 | Instapaper.com | 85 |
| 31 | Pearltrees.com | 85 |
| 32 | Rebrandly.com | 84 |
| 33 | Mix.com | 83 |
| 34 | Wanelo.co | 80 |
| 35 | Tumblr.com | 80 |
| 36 | N4g.com | 79 |
| 37 | Screencast.com | 79 |
| 38 | Thinglink.com | 78 |
| 39 | Tripadvisor.com | 78 |
| 40 | Weheartit.com | 77 |
| 41 | Fark.com | 74 |
| 42 | Mendeley.com | 73 |
| 43 | Gab.com | 71 |
| 44 | Symbaloo.com | 68 |
| 45 | Onmogul.com | 67 |
| 46 | Mastodon.social | 62 |
| 47 | Citeulike.org | 62 |
| 48 | Blinklist.com | 61 |
| 49 | Myvidster.com | 60 |
| 50 | Folkd.com | 58 |
| | | |